The Teqsas LAP-TEQ Motion is a 16-channel motor controller for all commercially available motor controllers (SWL).
The Motion System consists of two components: A rack unit and a remote unit.

Unlike conventional chain hoist controls, the LAP-TEQ Motion System is compatible with other products in the LAP-TEQ family.
The LAP-TEQ sensors and the LAP-TEQ Elevation can be connected to the three sensor inputs.

While the chain hoists are being operated, the data (e.g. height and angle) can be read in real time via the display on the remote unit. Likewise, the unit is so compact that it can easily be operated with one hand.

With a second rack unit, up to 16 motor channels can be controlled via a remote unit.

The sensor data can be read via a web interface using an optionally available WEB display. This is also possible via a separate access point with a smartphone or tablet.


Remote Control
Control of up to 16 chain hoist motors simultaneously
NL8 or LK08
Displays measured values of the angle, height and load sensors
Emergency stop switch
Panel:
Up to 3 LAP-TEQ sensors can be connected
input for the LAP-TEQ motion Remote Control
SWL Compatible
Technical details

Permitted ambient temperature for use
Permitted ambient temperature for storage


Remote
Display
Weight
Dimensions
Control cable


Rack
Protection Class
Internal power supply


Connection
Motor controller power supply

Outlets motor control
Dimensions



0-40°C
-20 - 50°C



1,8" TFT
520 g
190 x 33 x 77,76 mm
7pin XLR



SK1
85 – 264 VAC
47 – 440 Hz
35 W
Neutrik Powercon ®
24 VDC
610 mA
Harting HN
483 (19") x 460,5 x 44,5 mm


Download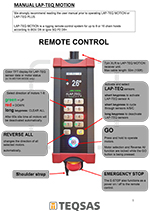 Manual