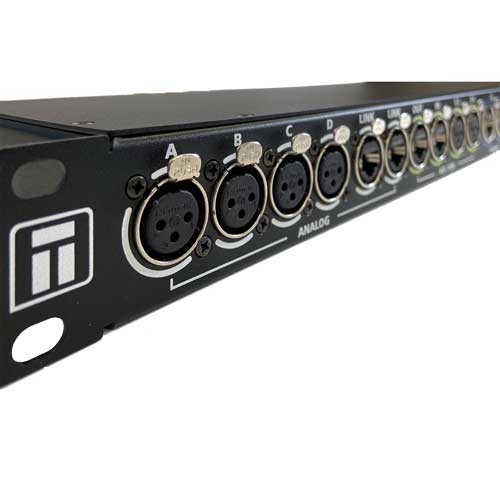 The Teqsas PAN-C is an intelligent connection panel for extending the range of applications of CODA Audio Linus 5C / 10C power amplifiers to mobile applications.
19" / 1 U rack-mount panel
Analogue input via XLR/CAT
Analogue link via CAT
LiNET-C input / link via CAT
LiNET-C Input via XLR (AES/EBU)
Integrated switch for control port
4x Speakon output (Ch.1/2, Ch.2, Ch.3/4, Ch.4)
Powercon link 32A for power amp
The new TEQSAS PAN-C is an AMP-RACK panel specially designed for use with the CODA AUDIO LINUS 5C and LINUS 10C power amplifiers. amplifiers. Several panels can be linked via the corresponding CAT sockets. LiNET-C can be fed in via CAT or via the XLR sockets (AES/EBU).
The XLR inputs are activated automatically by plugging in the XLR connector and an associated switching contact.

The built-in network switch allows multiple panels to be conveniently cascaded for control using Linus Control.

With the PAN-C, we simplify the possibility of also using a LINUS 5C or LINUS 10C in an AMP-RACK.


Technical details

Weight
Dimensions
Protection class
Supply voltage
Rated current
Perm. ambient temperature for use
Perm. ambient temperature for storage


4,5kg
44,5mm x 484mm x 150mm
1
85 – 264 V AC / 47 – 440Hz
0,25A/115V | 0.15A/230V
0 – 40C°
-10 – 50C°

Download
Manual